Milos Poseidon
Swimming

Sightseeing

Dining

Boat Fishing and
Tours
About Milos Poseidon
Sail at 10:00 a.m from the port of Pollonia.
Embark aboard the boat "Andreas-Marios" to spend a unique day making a perfect boat tour at the emerald waters of Kimolos and Polyegos.
At noon, the captain and his crew will offer you a hearty dinner during a stop at breathtaking seascapes.
Weather permitting, we can enjoy a boat trip to amazing Kleftiko from Provatas.
Our boat is also ideal for private/family tours.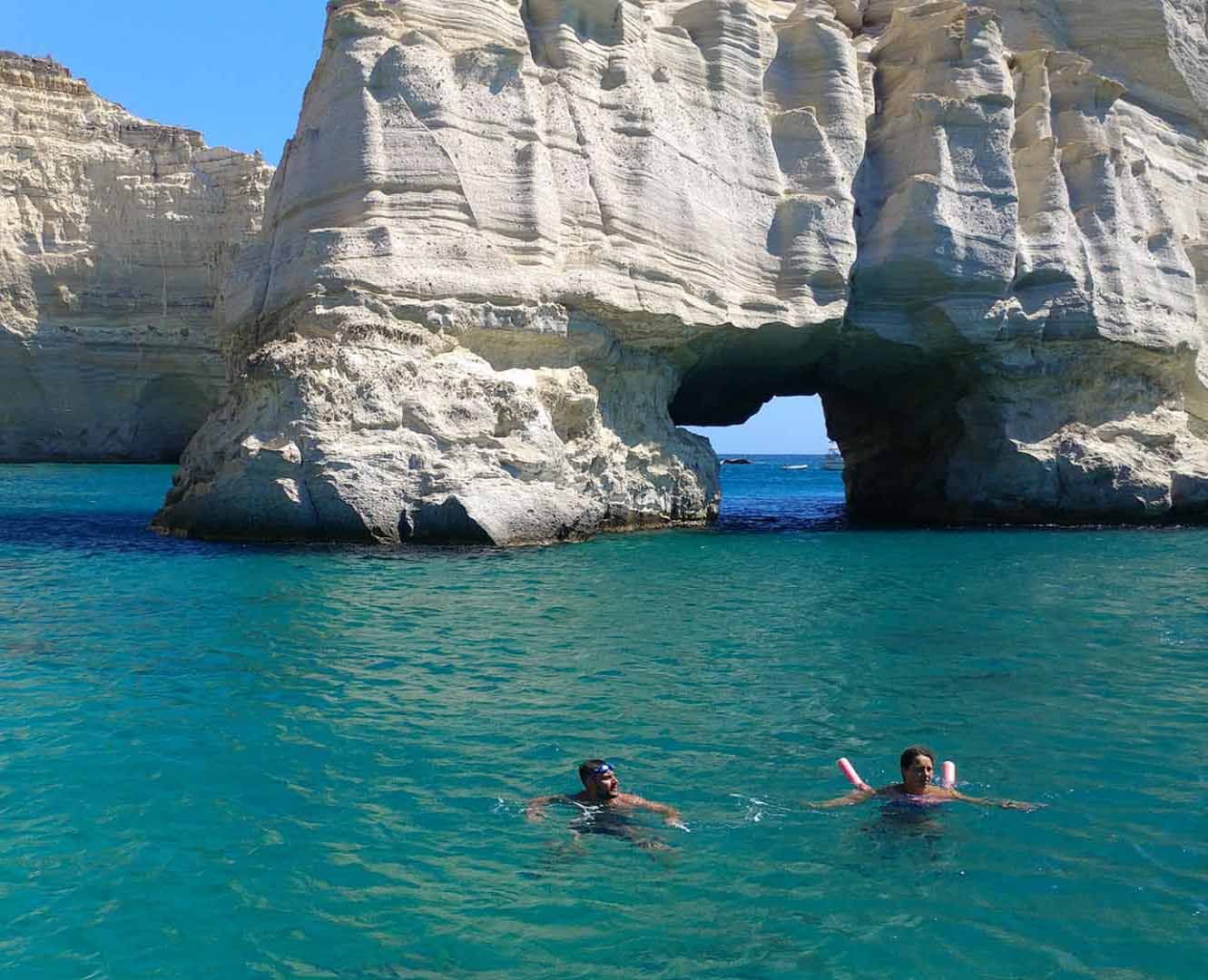 We had such a wonderful time on this tour! Polyaigos was absolutely stunning and Andreas was was amazing!! He provided us with lots of snacks & refreshments and made us... read more delicious seafood pasta for lunch. Would definitely recommend this trip!!

J9379IAlisae


06/08/2020

The best way to see the uninhabited island of poliegos, super authentic fisherman who started off picking up his nets and putting together the fish he caught in a pot... read more for us to eat! He cooked the fish, set up a lunch with salad, fish soup and fresh fish! All served on the boat ! We saw the most beautiful beaches, swam in the most beautiful blue waters! The 2 crew members were super friendly and welcoming. A lovely experience, enjoyed by us as well as our children!
Highly recommended!

750johannac


09/08/2019

Chartered "Poseidon" as a family with our skipper, captain Andreas!
Sailed from picturesque "Pollonia" in the morning, we spent the day touring the southern part of Milos, visiting spectacular... read more beaches, most known the magical one, called "Kleftiko"!!
Captain Andreas was a great companion and host making continuously sure that we have everything, from a tasty breakfast to a gourmet-style "fruit de mer" lunch (fresh shrimps, pasta dishes), cooled white wine, etc!!
A relaxing and enjoyable day, the best way to explore Milos and see beaches that you can't reach from land!!!
Highly recommended!!

Nassos F


21/09/2019

We had a wonderful time. We appreciated a schedule change to avoid bad weather as we were really excited about the trip. It was just the two of us and... read more one family, so it felt very relaxed and private, unlike a party boat. We do recommend avoiding bringing small children. As others have said, the crew were very happy and helpful, and also flexible around our requests. The pace was relaxed but never dull, and we had plenty of stops for sightseeing and swimming. Fresh fish for lunch at sea is unforgettable. Overall a fantastic way to spend a day and see Milos, and it was also very reasonably priced. Absolutely recommend you do this while you stay in Milos!

AlizaDom


24/08/2019

This was a fantastic day on a fishing boat, led by a great captain Andreas, who was capable and friendly.
First we watched as they pulled in the net, filled... read more with (delicious) fish we would later eat. Other very tasty Greek snacks were also provided.
Followed by a tour of multiple islands, including the most amazing deserted beach.
We are very happy we chose to go out with Poseideon! We highly recommend.

8logan8


03/09/2019

The trip with with the boat was awesome. We made the tour around Polyaigos and visited the best parts of the island. The waters were so clear, i could see... read more the bottom. We swam with the fish and saw sea turtles. We saw caves and beaches i have never seen on another island.
The captain, Andreas was kind, funny and a great cook. He served us traditional delicacies and the best fish soup I have ever eaten. The meal was served onboard in a breath tanking cove at the southern part of Polyaigos. The whole experience was amazing. I will definitely take the tour again.

fanimator


04/08/2020

Totally recommended!!
I had the pleasure to make the boat trip around polyaigos with them. We saw stunning beaches as we have never seen before. Moreover, the captain and Andreas... read more were always looking after us and they were super nice. The fish was taken and cooked in front of us so more fresh than an ice cream. The food cooked was super tasty. Unbeatable experience. Regards from Spain and Italy.

AntonioS7302


04/08/2019

Andreas was a perfect guide and great cook too. We saw Poliegos for the first time and were totally amazed. After swimming in the most incredible places, we had the... read more perfect lunch, prepared by Andreas. We very much recommend his tours!

Camper546268


06/08/2020

If you visit Milos you should definitely go to Polonia and do the 'Milos Poseidon Boat Experience'. By far the best day we had on the island.
Apart from the... read more fact that price is great, you will also notice that captain Andreas is going over and above to ensure that he provides the best service possible to have an amazing experience! Highly recommended! A 'must do' thing when visiting Milos.

Eleana K


13/06/2021

a wonderful experience - small boat for maximum 12 passengers, ideal for private travel,the 2 Andreas that make up the crew were wonderful - extremely friendly and helpful - they... read more managed to make us a beautiful day - lunch was fished in front of us , they gave us more time where we wished even if that meant going beyond their program. & thanks Poseideon team!

Ileana S


29/08/2019

It was an amazing tour! Mr Andreas is a great captain! We feel like we are still there, swimming in these crystal waters. The best moment was lunch!!! Captain... read more Andreas was the chief fisherman and we tried to help him to catch fish and then we had a perfect meal with absolutely fresh fish. Almost forgot to mention the traditional treats we enjoyed, like ladenia and watermelon pie (DELICIOUS). Can't wait to visit Milos next year and of course our friend Mr Andreas!

Nikoletta V


26/07/2020

In Milos there are places you can visit only by sea. One example is Kleftiko, one of the 10 best beaches in Europe according to Conde Nast Traveller and Tripadvisor;... read more some say it's among the best beaches in the world. While choosing a boat tour in Milos you're faced with 3 main options: 1) sailing boat (catamaran or monohull) which -despite the name- will take you there on engine (not sails), cost around 50-70€ per passenger, total of 20 onboard, 2) a super fast and sleek RIB, cost of 1200-1400€ per 8 hour ride of up to 8-10 persons, and 3) Poseidon, a traditional fishing boat, for a total cost of 400€ for the same 8 hour tour, capacity up to 8 persons. Choice #1 you need to account for another 15-20 strangers on the boat, not quite the beat choice for the covid-conscious. A party of 8, two 4-member families, we opted for option 3 mainly due to the tranquility/privacy it'd offer (just the 8 of us), pricing and availability. On the day before departing Captain offered us choice of lunch, either kakavia (fish soup) from freshly-netted fish (we would have casted the nets ourselves in the morning) or home-made shrimp pasta, we opted for the second. We didn't regret the choice of the specific tour one bit. Captain Andreas took us on a relaxed low-pace trip from Pollonia all the way south and we toured the whole south cost of Milos. We made three stops for swimming, 1st was a translucent white-pebble beach close to the old sulfur mines, after which we were treated to ladenias (local oil bruschetta-like dish with cheese onion and peppers), 2nd was unexpectedly stunning Gerontas (black thin glittering sand beach with a natural arch on one side, castaway stuff) and ultimately Kleftiko, where we anchored , swam in the caves and enjoyed lunch with a magnificent shrimp pasta dish prepared by our captain on-the-spot. All drinks and wine on the house. On our way back we took a last dive just before arriving to Pollonia. We had an unforgettable time and we were treated with great hospitality and friendliness. We would recommend Poseidon, Andreas and the tour without any objection. …

Dean Forrester


25/07/2021

If you want to feel the real greek ambience this is the right choice. The boat crew makes you feel the beauty of their sea and land. They make you... read more feel part of the family as well, always being attentive with us, smiling always and make sure we feel good. The places they took us were just unbelievably precious and unforgettable. The captain is a really Poseidon! And the fished cooked there on the boat was the icing on the cake!
Thank you very much Andreas, Andreas and Marios! You are special people.
Alina & Antonio

alinalavinia_persa


05/08/2019

We visited Milos for the second time this year in June and we were really looking forward to visit Polyegos, a small rocky island near Milos and Kimolos. The agency... read more that rent us our car suggested captain Andeas and they were absolutely right! The boat is a traditional fishing boat. We left from Pollonia and we were a small group of 6 people on board. We sailed towards Polyegos and took a full tour around the island. During the trip captain Andreas was willing to stop or slow down on every spot that we liked for photos and swimming and also recount the story of the islands. The beaches around the island are some of the most beautiful we have ever seen. Crystal clear blue water! Truly impressive!!! It's a must seen place if you visit Milos! During the trip captain Andreas offered us the traditional "ladenia " handmade by his mother and for lunch he cooked us shrimp spaghetti with fresh shrimps that he fished himself and greek salad with vegetables from his garden! Delicious !!! For dessert he offered us fresh fruit. Drinks were also included. Our trip was amazing!!! Captain Andreas was very friendly and helpful!! Worth every penny! The price for the tour was really inexpensive regarding what was offered and the whole experience!! Absolutely recommended!

239eleanat


17/06/2021

We did a tour of Poluaigos with Poseidon and it was an amazing experience. Beautiful beaches, stunning views, crystal clear waters. The captain, Andreas, is very polite and loves what... read more he does. He cooked for us a delicious meal: shrimp linguine with local shrimps and s salad with vegetables from his very own garden. Last but not least, all this comes at a very low price! We could not thank Andreas more for this amazing day!

Erietta V


01/08/2021

Having spent most of our time exploring the island via ATV (quad) and scooter we decided to set sail with Captain Andreas and Pedros (who were great!).

The... read more boat is small and there were only 7 of us on board (inc. crew) but it made the trip far more interesting than if you were on a boat of 40+.

We visited 4 secluded parts of the island (that you can only access via boat) which were beautiful and, because of the pebbles/small rock beaches/coves, the water is so clean and transparent.

True to their word food was served up and alcoholic/non-alcoholic drinks were provided (Andreas makes a mean spaghetti and shrimp pasta!).

Thanks for the trip boys!! Here's a few photos ;)

benschofield17


05/09/2019

One of the best experiences in mylos island.
We visited kleftiko beach,all the stuff was very kind.Mr Andreas was very helpful and he guide us in the best beaches of... read more the island...

lngts


14/06/2020

Last day at Milos...We had go to the most beaches in the island the previous days and we were surprised by the beauty of the island and got the greatest... read more moments. But we were wrong.Capten Andreas had others plans for us.We had arrange with him a trip over Polyaigo,an island near Milos. Was one of the best experience in our lives.I have a lot to say but these things that made all this unique was the incredible sea with turquoise water,the delicious spaghetti with shrimps inside the vessel cooked by Capten,the wild beautiness of the caves and rocks and of course Capten Andreas with his authentic smile who love this so it cant be less than perfect! Try this and you wont lose for sure! …

Dionisis


01/08/2020
SUBSCRIBE TO OUR NEWSLETTER
SUBSCRIBE TO OUR NEWSLETTER